THE SMALL BUT MIGHTY PUMP!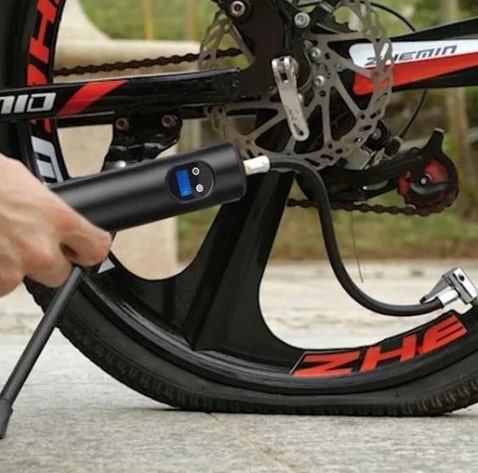 Getting a flat tire on the road is one of the major inconveniences in driving and it can be scary experience as well, so having a reliable working inflator is a must-have for every car owner!
Now, most inflators in the market are those big, heavy, bulky looking pump. It is very inconvenient! That is why we bring you, our Mini Pump!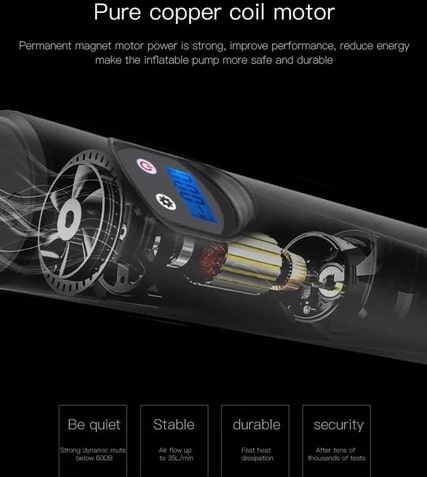 FEATURES
COMPACT DESIGN. Our inflator is designed to be small for it to be convenient. You can bring it anywhere with you or just store it at the back storage of your car and it wont even take much space.
WIRELESS. This pump has a self-contained battery that at full power can last up to 4 tires and can standby 365 days and 25 minutes.
SELF-ILLUMINATION. Flat tires can come at any time so it could happen at night as well. During dark emergencies, our mini pump has self-illumination highlight beads that will aid you in those urgent emergencies.
PURE COPPER COIL MOTOR. Our mini inflator is made of an all-metal cylinder block making it durable and long-lasting. It has a permanent magnet motor power that is strong and improves performance.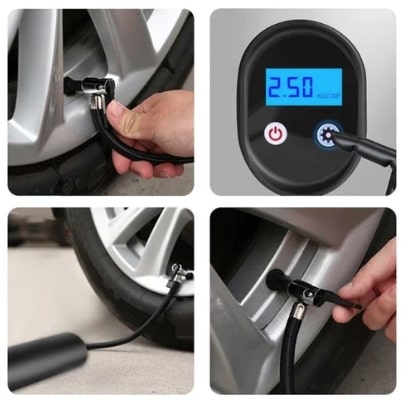 SPECIFICATIONS
Battery Capacity: 2000 mAh
Max Continuous Working Time: 30-40 min
Inflator Efficiency: 20 L/min
Max Inflator Pressure: 150 PSI / 10.3 BAR / 990 KPA / 10.5 KG/CM
Pressure Units: PSI, BAR, KPA, KG/CM2
Working Temperature: -20'C / +70'C
Working Power: 60 W
Input Voltage: DC 12V (Car Charger), DC 5 – 15V (USB Cable)
Working Current: 1-5 A
Floodlight: 80 Lumens
Weight: 500 G / 1.10 lb
Product Size: 250 x 56 x 47 mm / 9.8 x 2.2 x 1.9 inch
Packing Size: 289 x 70 x 73 mm / 11.4 x 2.8 x 2.9 inch
Outer Air Hose Length: 15 cm / 5.9 inch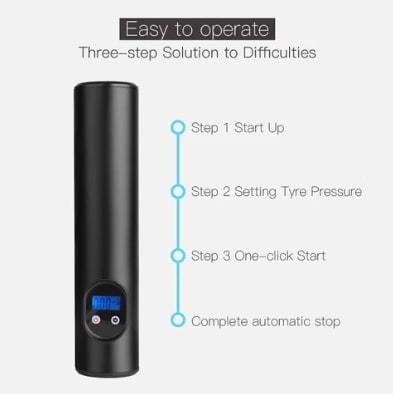 OPERATING INSTRUCTIONS
Connect the hose into the bottom tire valve core.
Press down the buckle on the air hose to prevent air leaking.
Press the button Power button to wake up the screen. Note: Pressing the Power button when the device is already turned on will let you switch between different units of air pressure measurement.
Press the Settings or gear button to set tire pressure value.
Once you set the pressure value to your preference, press the Power button to start inflating, and it will stop automatically when the preset pressure is reached.
PACKAGE INCLUDES
1 x Air Compressor
1 x USB Charging Cable
1 x Air Hose
1 x Presta Valve
1 x Ball Needle
1 x Toy Nozzle
1 x Storage Bag
1 x User Manual